Market
AI Tools Directory: Discover the Best 10 Tools for 2023
1) Toolify.ai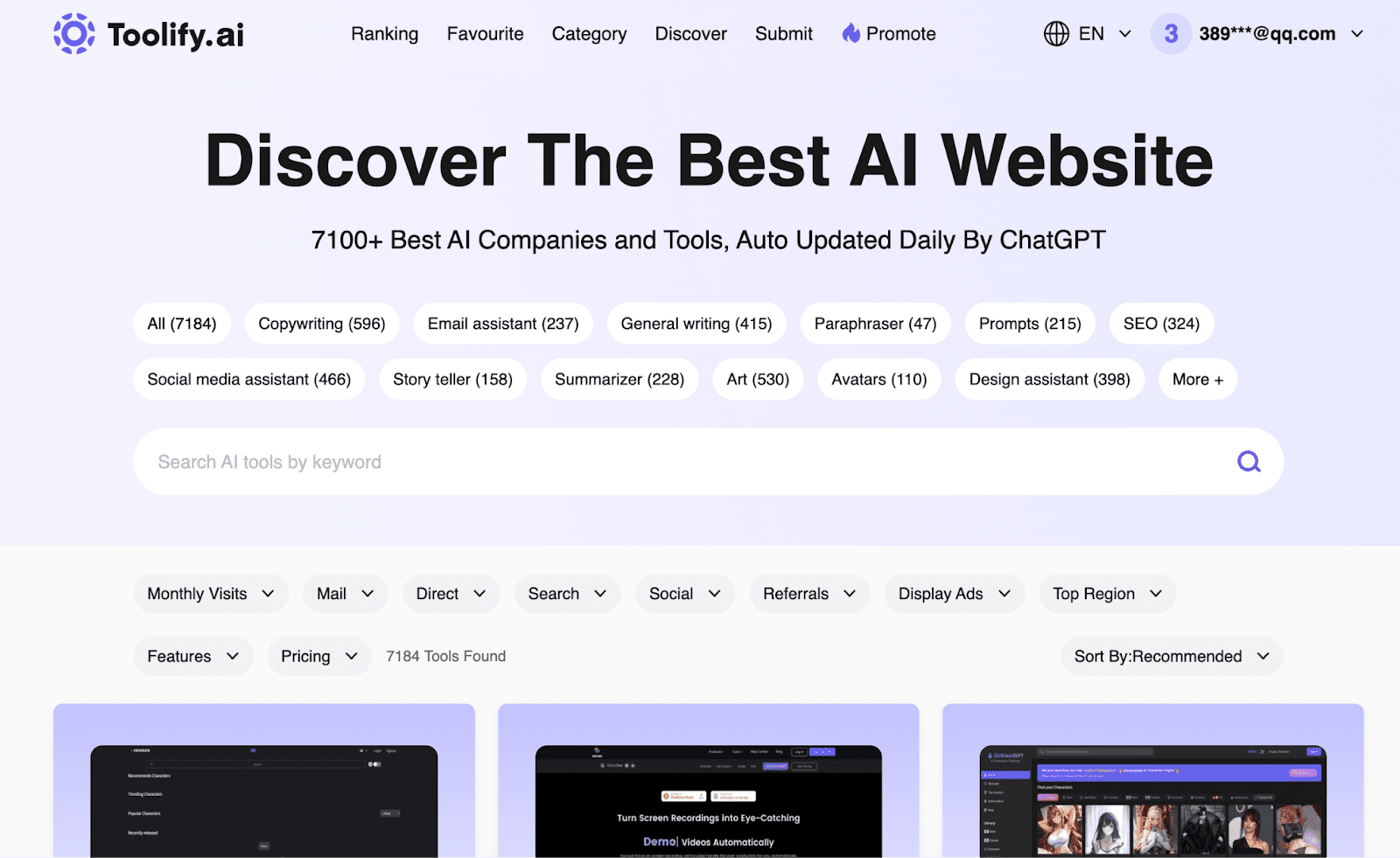 Discover your perfect AI assistant with Toolify, the most comprehensive directory of artificial intelligence tools on the web. Browse through over 7000 AI websites, apps and services across all categories from writing aids to design tools. New AI innovations are added daily by ChatGPT, ensuring you have access to the latest options. Search, filter and compare by keyword, metrics, pricing and more to create an AI toolkit tailored to your needs. With Toolify, you'll stay on top of the latest AI trends and find the ideal solutions to boost productivity and creativity.
2) AI Tool Navigation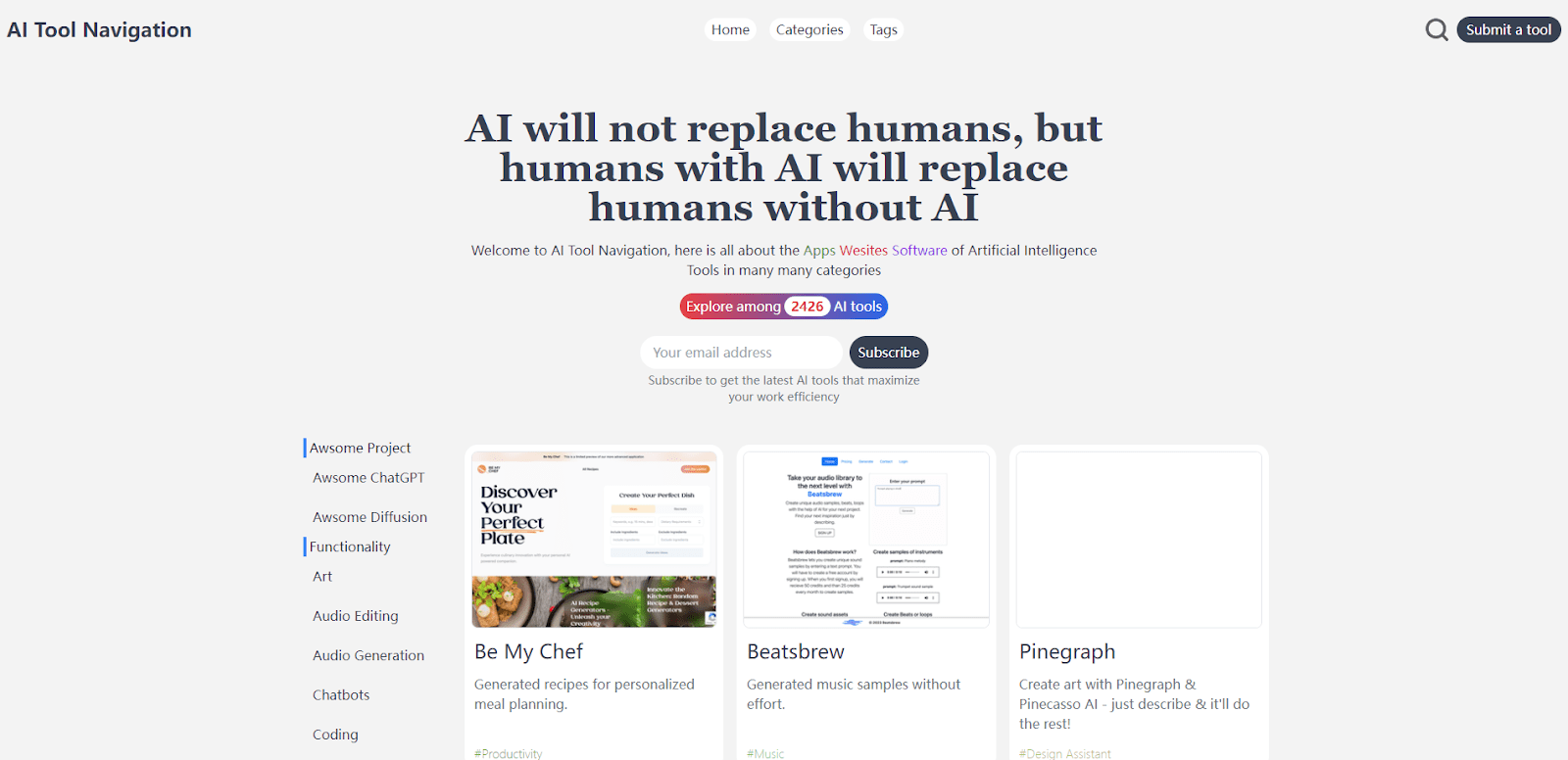 AI Tool Navigation is a comprehensive online directory of AI tools and software designed to aid users across various domains, from productivity and general writing to audio editing, coding, music, and more. The platform's primary goal is to help users find the perfect AI solution that fits their specific needs.
The website provides a broad array of AI tools, each with unique capabilities. For instance, Qwai AI, an AI-powered ghostwriter, assists users in creating life blueprints and publishing books. Careered AI is an AI Cover Letter Generator, and Aiko offers high-quality on-device transcription for Apple devices. Other tools such as Rezon8 AI automate review management, and Animaker's Subtitle Generator provides fast, AI-powered subtitle generation.
AI Tool Navigation also categorizes tools based on their functionality and input & output methods, making it easy for users to find the AI tools that suit their needs. They also highlight the most popular tools and those specialized in prompt engineering, which helps users navigate the vast array of available tools.
The platform is committed to providing accurate and up-to-date information, with a team of experts rigorously testing and evaluating each product before listing it. AI Tool Navigation serves as a reliable source for discovering the best AI tools, making it a go-to destination for AI resources.
3) Top100AITools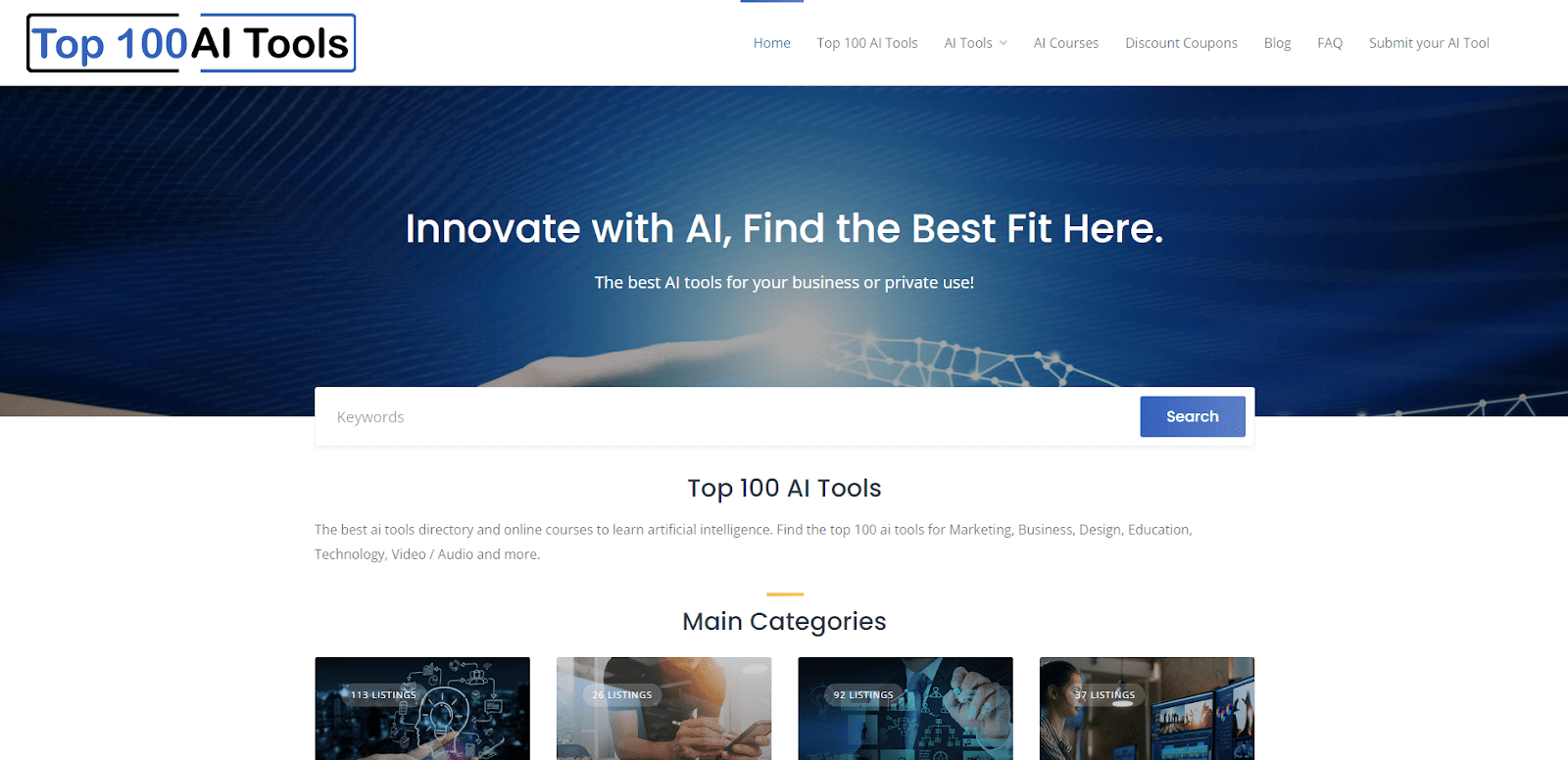 Top100AITools.com is a comprehensive web platform that provides users with an extensive directory of AI tools and related online courses. The website hosts a variety of tools that are categorized based on their application in different fields such as Marketing, Business, Design, Video & Audio, Technology & IT, Lifestyle, and Education. Within these categories, users can find AI tools for specific tasks like email marketing, content writing, customer support, audio to text conversion, coding, etc.
This platform also features the 'Top 100 AI Tools' list, a compilation of the most popular and effective AI tools available. For each tool listed, the site provides a brief description, pricing information, and user ratings, offering a comprehensive overview for users to make informed decisions.
In addition to AI tools, the website also offers a range of online AI courses, helping users to learn and enhance their skills in artificial intelligence. The website also maintains a blog that posts articles related to AI tools and their applications.
The FAQ section of the website answers common queries about AI tools, providing guidance on how to choose the right tool, costs involved, and potential risks. The platform aims to innovate with AI and find the best fit AI tools for businesses or personal use.
4) Tooldirectory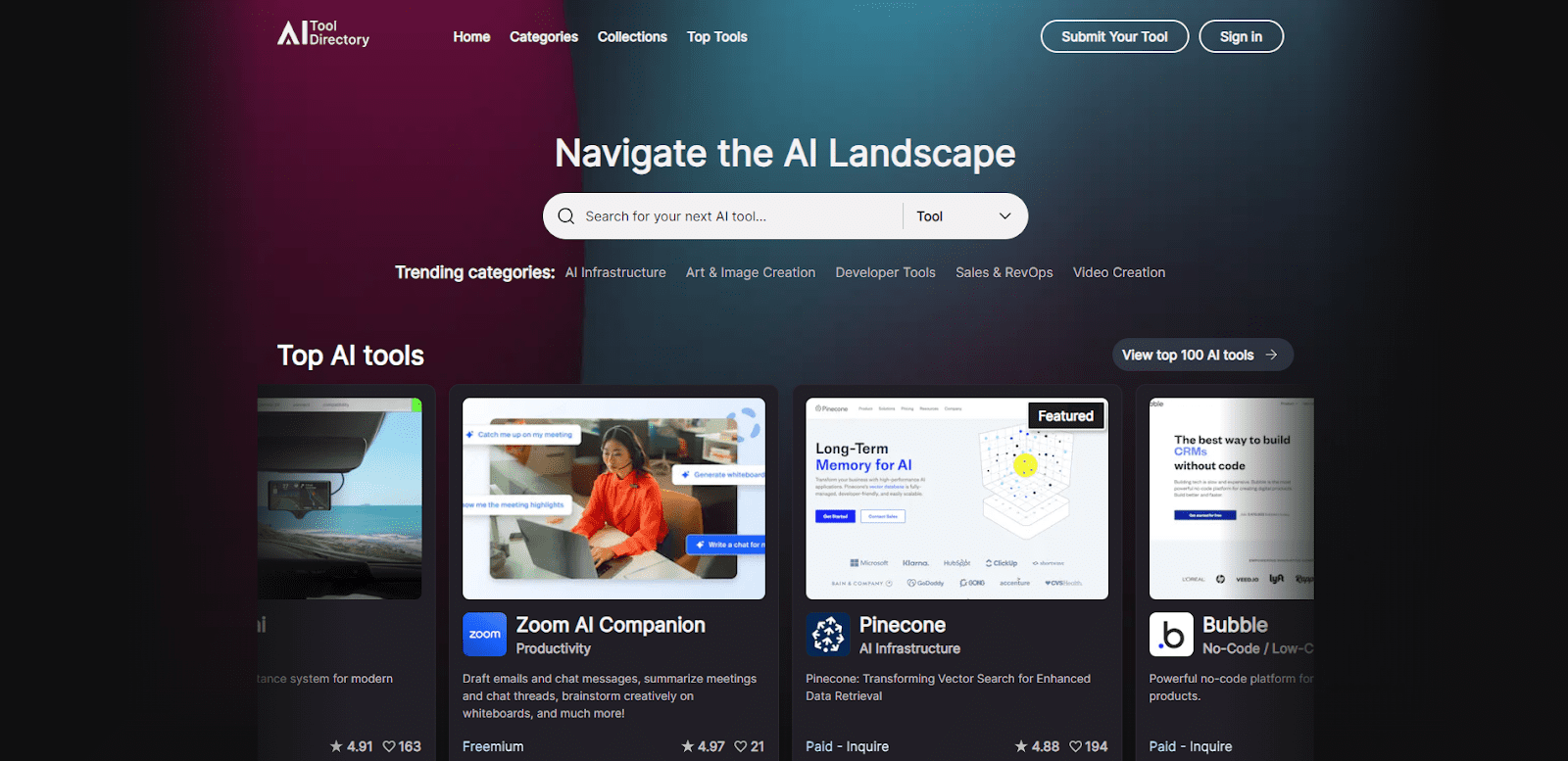 Tooldirectory.ai is an inclusive online repository of AI tools designed to support users in navigating the AI landscape. The site offers a curated selection of tools, grouped by categories such as AI Infrastructure, Art & Image Creation, Developer Tools, Sales & RevOps, and Video Creation.
The directory features an in-depth view of the top 100 AI tools, each listed with key details like pricing model, user ratings, and a brief overview. Some highlighted tools include the Zoom AI Companion for productivity, Pinecone for AI Infrastructure, Bubble for No-Code/Low-Code development, and Systeme.io for Marketing & SEO.
The website also hosts a series of collections that group tools by specific themes or uses. For example, collections like 'Best Large Language Models (LLM) of 2023' and 'Unlocking AI Optimization: The Role of Vector Databases' offer users a quick way to access tools relevant to those specific areas.
Moreover, Tooldirectory.ai provides a newsletter service, keeping subscribers up-to-date with the latest developments in the AI tool industry. The platform also maintains a FAQ section and privacy policy to ensure transparency and trustworthiness. Through this directory, users can discover, explore, and compare the most innovative AI tools, aiding their journey in the world of AI.
5) AIToolsArena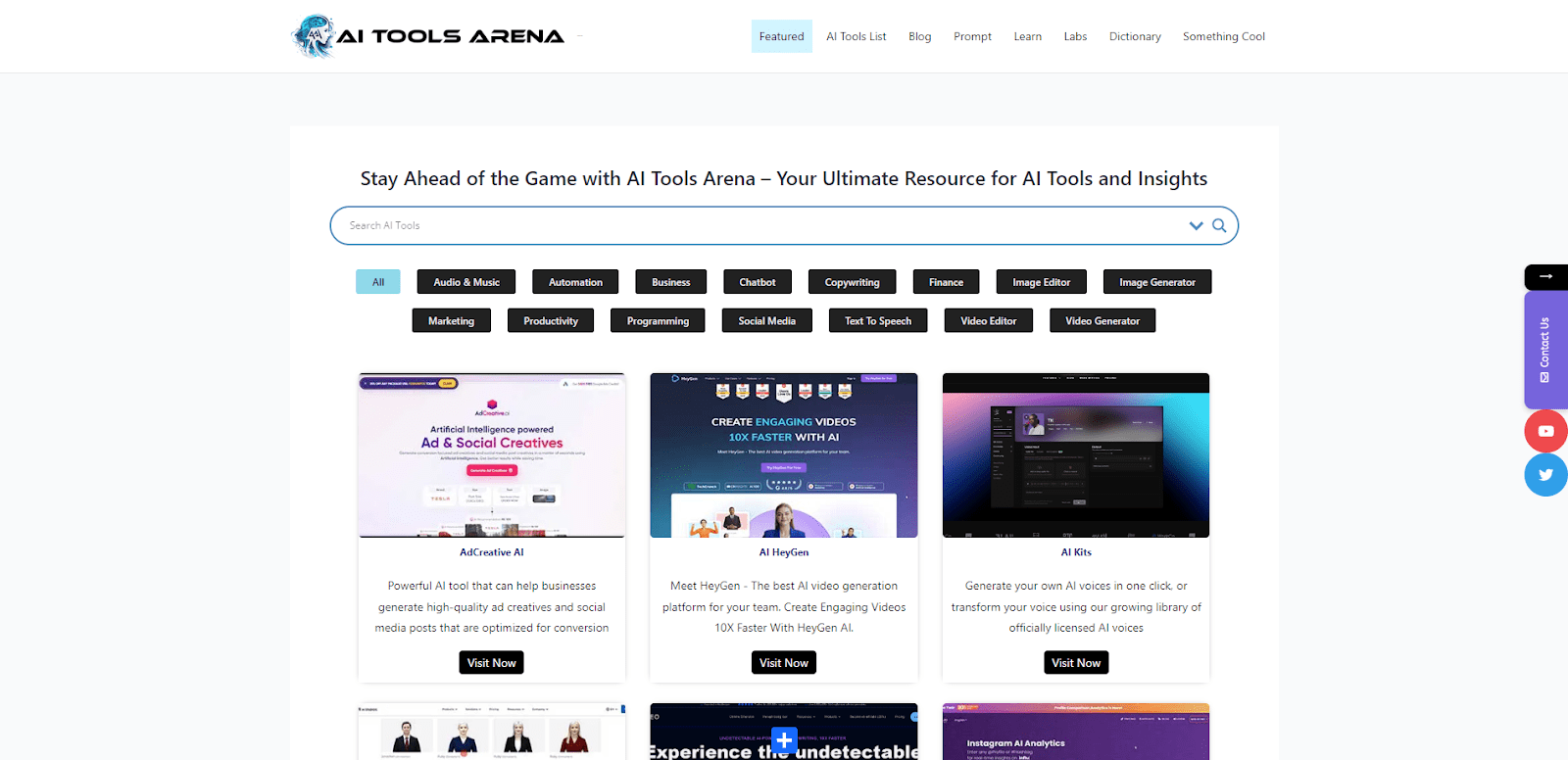 AIToolsArena.com is an extensive digital platform dedicated to showcasing a broad array of AI tools. The website functions as a comprehensive resource for AI enthusiasts, professionals, and businesses looking to stay ahead with the latest AI tools and insights.
The site includes an organized AI Tools List, which categorizes tools into various sectors like AI Animation Generator, AI Automation, AI Business, AI Chatbot, AI Copywriting, AI Education, and more. This allows users to easily find AI tools relevant to their specific needs.
Among other features, AIToolsArena also includes a blog, which likely hosts articles on AI trends, tool reviews, and tutorials. The website also provides a unique 'Prompt' feature and 'Labs', though without further details, the exact nature of these offerings remains unspecified.
The site also includes a comprehensive glossary of AI terms, making it a learner-friendly platform for those new to the field. A 'Something Cool' menu item hints at additional engaging content for users.
To enhance user interaction, the website also offers a 'Contact Us' form and links to their YouTube and Twitter platforms for more multimedia content and updates. In conclusion, AIToolsArena serves as an all-in-one hub for AI tools, education, and community engagement.
6) AiHunt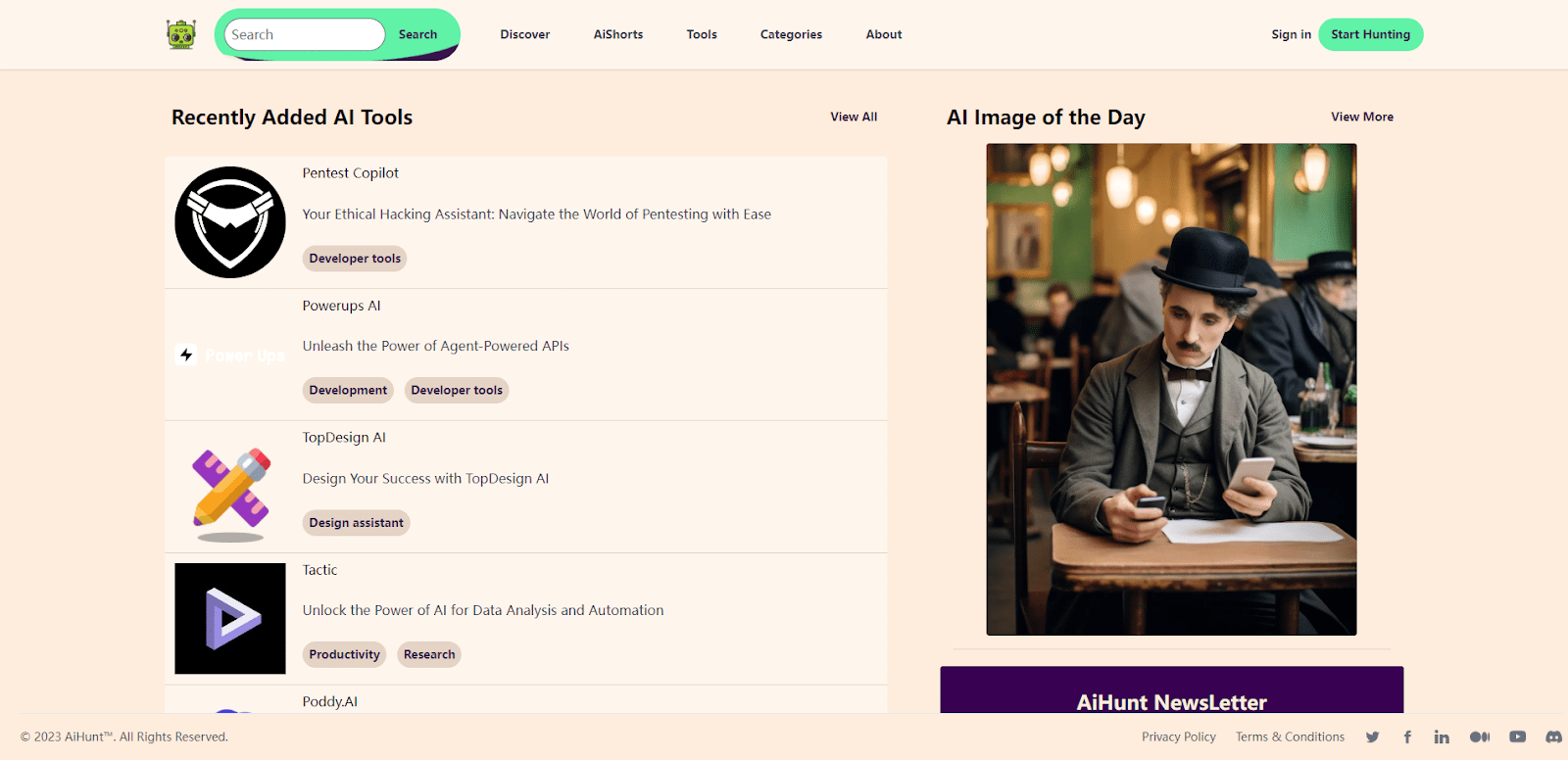 AiHunt.app is a cutting-edge platform dedicated to the discovery of the latest AI tools, research, and news. Serving as a comprehensive guide, it allows users to keep abreast of recent developments in the AI landscape.
The platform's main features include a curated selection of recently added AI tools, with a diverse range of applications from developer tools and design assistants to productivity and personal life assistants. Some of these tools include Pentest Copilot, an ethical hacking assistant, TopDesign AI for design success, and Poddy.AI for easy podcast creation.
In addition to the tools, AiHunt hosts a section called 'AiShorts', which offers short, crisp briefings on technology news, research papers, trending Github repositories, and viral videos. The site also features an 'AI Image of the Day', showcasing intriguing AI-generated images.
AiHunt extends its resources to a daily newsletter, covering AI startups, tools, and news. The newsletter boasts a readership from renowned companies like Google, a16z, Sequoia, Netflix, and Meta.
Furthermore, the platform maintains an active blog that collates collections, reviews, guides, and more, providing additional insights into the world of AI. To promote community interaction, AiHunt.app also links to its social media platforms, including Twitter, Instagram, Facebook, LinkedIn, Medium, YouTube, and a Discord server.
In summary, AiHunt.app is a comprehensive hub for AI enthusiasts and professionals seeking the latest tools, news, and research in the field.
7) AiToolMate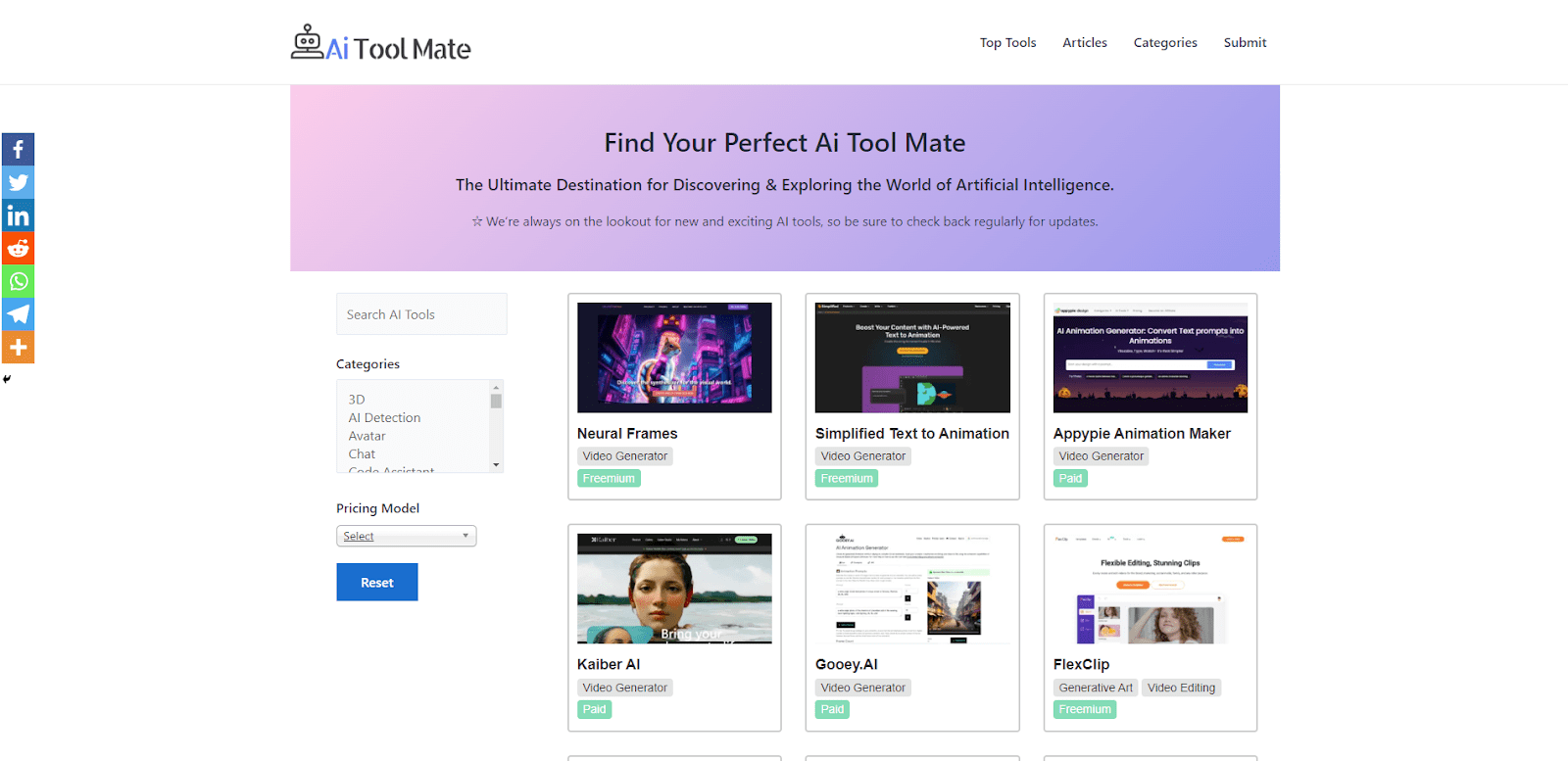 AiToolMate.com is a comprehensive platform that provides a curated collection of AI tools across a multitude of categories. It positions itself as the ultimate destination for discovering and exploring the world of artificial intelligence.
The platform offers a diverse array of AI tools categorized into different areas of interest like 3D, Avatar creation, Chatbots, Copywriting, Customer support, Design and Developer tools, Education, Finance, Gaming, Generative Art, Healthcare, Human Resources, and many more. Each tool entry includes information about its pricing model, whether it's free, freemium, paid, or if the price is unknown.
Some examples of the tools listed include Neural Frames, a freemium video generator; Gnothiai, a free tool for education; Kavout, a stock market tool with an unknown price; Voicemod, a free voice changer; and CodingBuddy, a free code assistant.
AiToolMate also offers a 'Submit' feature, enabling AI developers to submit their tools for inclusion on the platform. This ensures the platform remains updated with new and exciting AI tools.
In addition to its extensive collection of AI tools, AiToolMate also hosts articles related to AI, providing further insights to its users.
In summary, AiToolMate functions as a comprehensive repository of AI tools, designed to help users find the perfect AI tool for their needs, while also fostering a community of AI enthusiasts and professionals.
8) Aixploria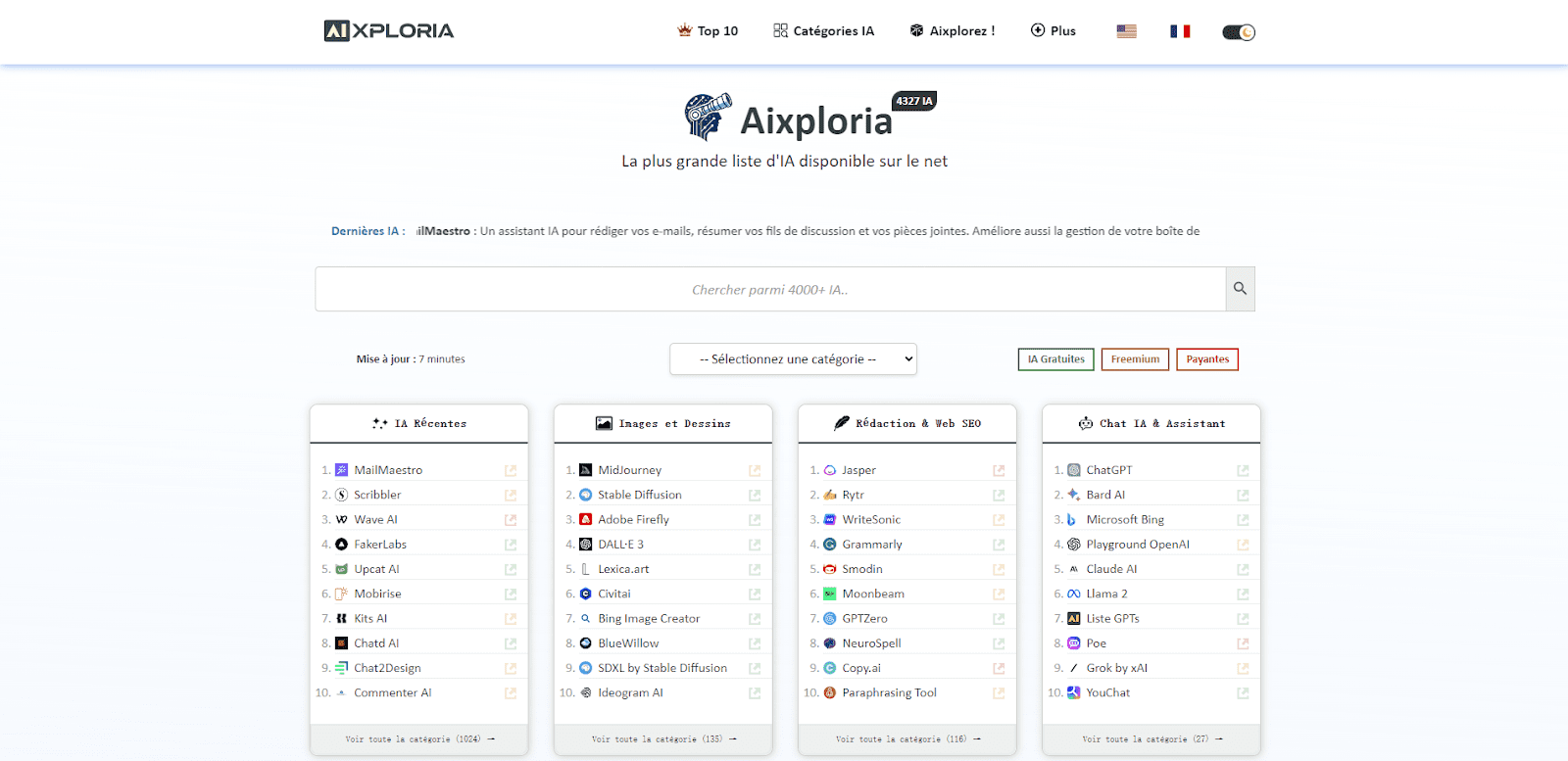 Aixploria is a comprehensive platform that provides an extensive list of free AI tools and top 10 AI tools by category. The website features a wide range of AI applications from various fields. Recent additions to the platform include MailMaestro, an AI assistant for managing emails; Scribbler, which provides summaries of YouTube videos or podcasts; Wave AI, an AI coaching tool for professionals; FakerLabs, a deepfake detection tool; and Upcat AI, an AI that writes cover letters and optimizes job searches.
The platform is home to over 4300 AI, making it one of the largest collections available online. Users can search for tools by category, such as art, personal assistants, avatars, business, chatbots, logo creation, AI detection, and e-commerce, among others. The site also provides a categorization based on the pricing model – free, freemium, and pay-to-use AI tools.
Aixploria is a valuable resource for individuals seeking AI tools to increase productivity and efficiency in different areas of work and life. The platform is continually updated, ensuring users have access to the latest AI tools available on the market.
9) AI Finder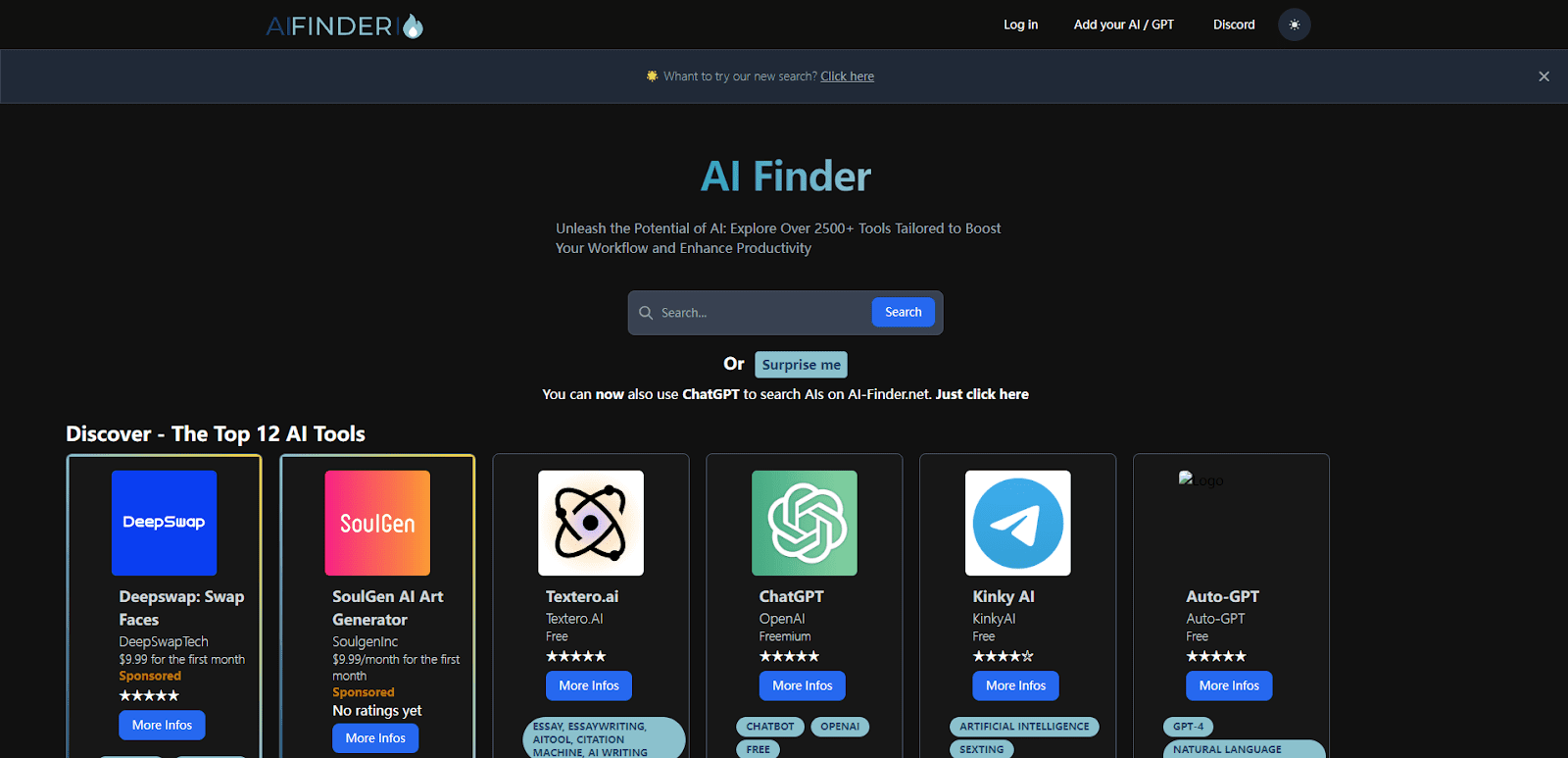 AI Finder is a comprehensive platform that allows users to discover and compare various AI tools to enhance their workflow and productivity. Hosting more than 2500 AI tools, it provides a robust search interface and the option to use ChatGPT for searching AI tools.
The website showcases various categories of AI tools like DeepSwap for face swapping, SoulGen AI Art Generator for AI-generated art, Textero.ai for essay writing, and Auto-GPT for natural language processing. It also includes tools like Notion AI for content creation, Quickvid.ai for creating YouTube Shorts and TikToks, and Copilot by Github for code generation and completion.
Additionally, the platform introduces newly added AI tools, providing a brief description and pricing information for each. Some of the newly added tools include AI UNDETECT for AI detection, Dropout Developer for AI coding and project-based learning, and MealByMeal for health and weight loss, among others.
Overall, AI Finder serves as a comprehensive directory and comparison platform for AI tools, making it easier for users to find the best AI tool suitable for their specific needs.
10) ToolsStory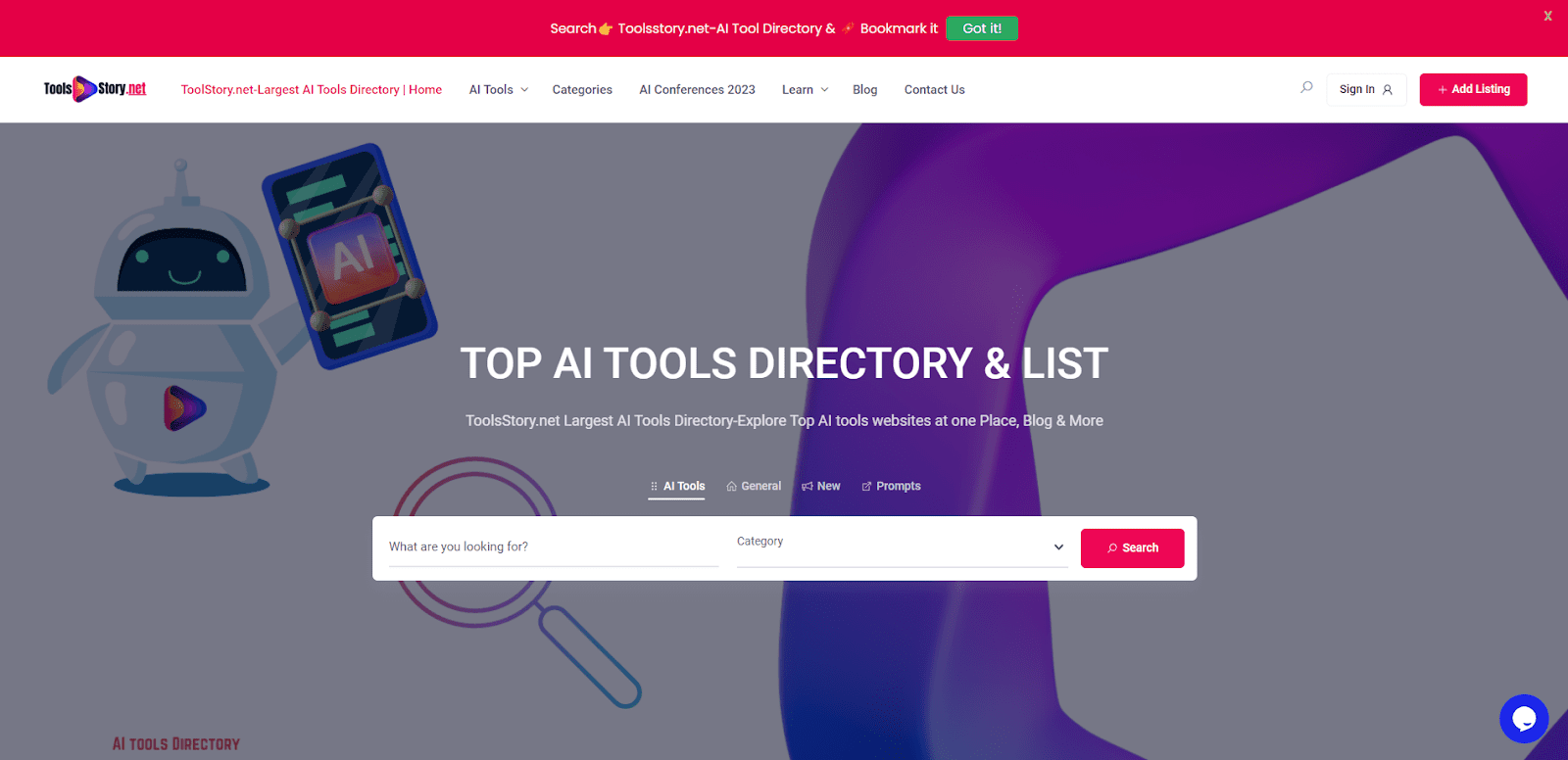 ToolsStory.net is a prominent online directory that offers a comprehensive list of AI tools. This platform is designed to help users navigate the rapidly expanding landscape of AI tools by categorizing them based on various applications such as writing, image generation, video generation, marketing, dashboard, coding, social media, business, chatbots, text to speech, and SEO.
The platform also showcases a selection of 'Featured & Top AI Tools' which includes popular tools such as Originality AI, Homeworkify, FlexClip, and Chat GPT. Each tool listing includes a brief description, categories, and a user rating system for easy comparison. This allows users to find the right AI tool that suits their specific needs.
In addition to the AI tools directory, ToolsStory.net offers a section for AI Conferences in 2023, a learning resource with AI Trends and Google AI Course, and a blog that posts the latest AI news and updates. The blog shares articles about the best AI tool options for various use cases, like product videos, product mockup generators, and realtors.
Overall, ToolsStory.net acts as a one-stop destination for exploring the growing world of AI tools, providing users with the means to stay updated with latest trends, learn new concepts, and discover tools that can enhance their workflow and productivity.