Market
Japan's Blockchain Infrastructure Firm THXLAB, Partners with AsiaTokenFund Group: Advancing THXNET. – Web3-aaS Expansion in Asia
TOKYO, Japan, 04 Nov 2023  – THXNET, a Japan-based Web3-as-a-Service Blockchain Infrastructure firm, and AsiaTokenFund Group, a leading web3 conglomerate based in Asia today announced a strategic partnership with a focus on extending the reach of THXNET's ground-breaking blockchain technology infrastructure services into the broader Asian market.
Founded just four years ago, THXNET has made significant strides in the blockchain realm. a pioneer in blockchain technology, proudly unveils its offering centered around its own dedicated Layer 1 (L1) infrastructure, meticulously empowered by the robust THXNET Layer 0 (L0) Rootchain.  This innovative foundation is underpinned by the state-of-the-art Substrate framework, refined to perfection by the seasoned experts at THXLAB, the development company behind THXNET.
Its Layer 1 Blockchain achieved a pivotal milestone by going main-net this past June. Crafted with a singular vision to act as a bridge between the traditional digital landscape (web2) and the decentralized web3 future, THXNET serves as a Web3-As-A-Service provider. This approach offers web2 companies a hassle-free gateway to tap into the burgeoning world of web3.
"THXNET's success is not just theoretical. We have two operational Layer 1 chains running on our main-net, demonstrating real-world viability and adoption," says Aro Kondo, the CEO & Co-Founder of THXNET. At present, THXNET has already amassed multiple use-cases and clients building on top of its framework including gaming, digital asset wallet, lifestyle application etc.
Furthermore , adding to its portfolio of successes, its parent company BANQ has established a joint venture in Japan with a financial media company listed on the Tokyo Stock Exchange, specializing in Web3 business. Leveraging THXNET as a platform, they are concurrently working on Web3 marketing, sports-related and carbon credit trading projects. The joint venture is also in discussions with several major group companies focused on finance and e-commerce.
It's worth highlighting that THXNET's innovative approach has already begun generating revenue from its Layer 0 and Layer 1 chain users. This revenue stream has positioned the firm as a self-sustaining entity in the competitive blockchain market.
But the innovations don't stop there. THXNET is on the cusp of launching its new mobile application – the world's first super-app designed specifically for developers. This ground-breaking app offers developers the unique ability to create, connect, build, and explore functionalities of the THXNET blockchain all within a singular interface.
"We recognize the challenges developers face in navigating the decentralized world. Our super-app is not just a tool; it's a comprehensive solution, bringing all the functionalities they need to their fingertips, simplifying their journey in the blockchain space," elaborates Aro.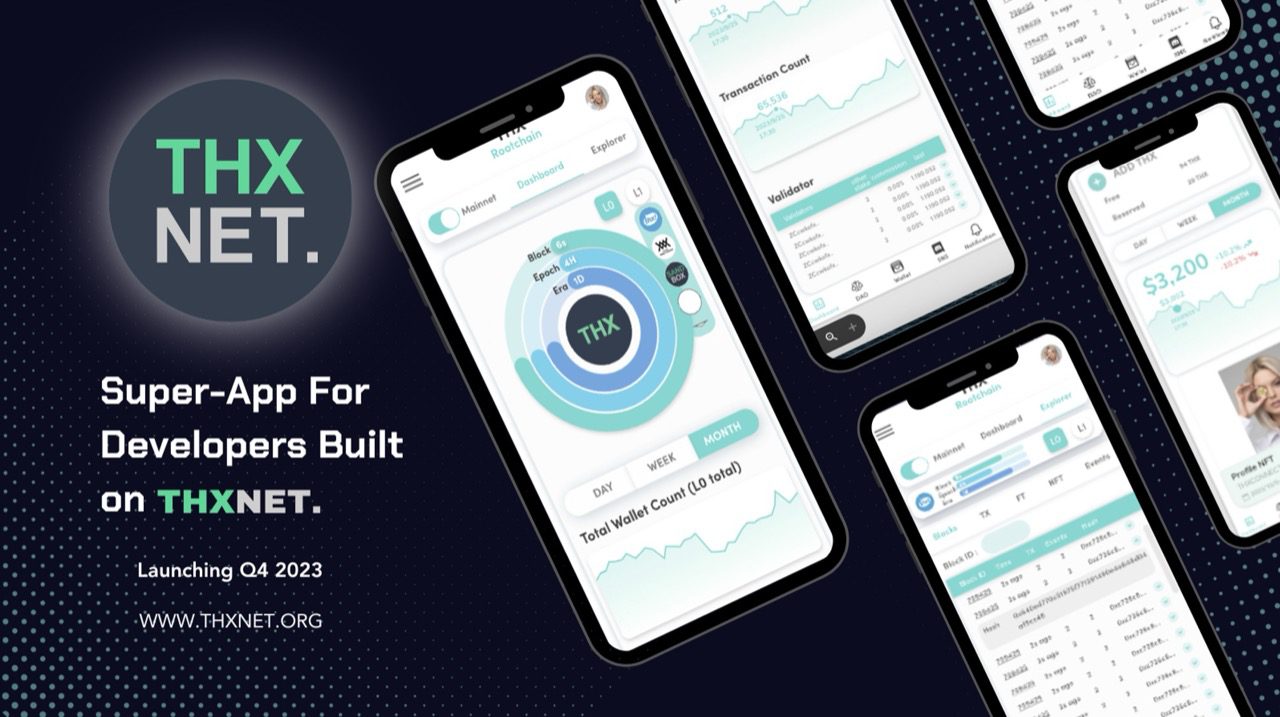 Figure 1 – Mock-up of THXNET Mobile Application Super-App For Developers target to launch early Q4 2023. More info will be revealed on its launch.
The alliance with AsiaTokenFund Group is poised to be a game-changer. "This partnership melds our technical expertise with AsiaTokenFund's deep market insights and presence. Together, we are not just aiming to make waves but to reshape the digital landscape across Asia," comments Ken Nizam, the Co-Founder of AsiaTokenFund Group. This strategic partnership also sees the appointment and onboarding of Ken Nizam as THXNET Advisor and CMO, leading the go-to-market strategies in the Asian markets.
The collaboration between these two giants promises to push the boundaries of what's achievable in the web3 realm, ensuring that the transition from web2 to web3 for companies is not just possible, but seamless and efficient.
For more information, visit THXNET website at https://thxnet.org/ and social media channels at  https://twitter.com/THXNET_WEB3aaS
About THXNET:
At THXNEX, we pride ourselves on being at the forefront of Web3 technology, offering a comprehensive suite of services tailored to meet the demands of the modern digital landscape. Our core proposition revolves around the concept of Web3-as-a-Service (Web3aaS), embodying the next evolution in online experiences. Central to our offering is a dedicated Layer 1 (L1) infrastructure, meticulously facilitated by the robust THXNET Layer 0 (L0) Rootchain. This foundation is powered by the cutting-edge Substrate framework, fine-tuned to perfection by the experts at THXLAB.
About AsiaTokenFund Group:
AsiaTokenFund Group (ATF) is an Asia-based powerhouse with a global reach, dedicated to championing the web3 ecosystem. Originating in 2017 as a blockchain media entity, ATF has magnificently evolved into a dominant Southeast Asian blockchain media source. Its metamorphosis encompasses a web3 marketing agency, technical development prowess, event mastery, an accelerator for web3 startups, while investing fervently in the web3 frontier. ATF's core mission extends beyond innovation; it seeks to orchestrate a complete web3 ecosystem that draws in the next billion participants.
For media inquiries, please contact:
Ken Nizam | CMO THXNET | Co-Founder AsiaTokenFund Group.
Ken@thxlab.io | Ken@asiatokenfund.com